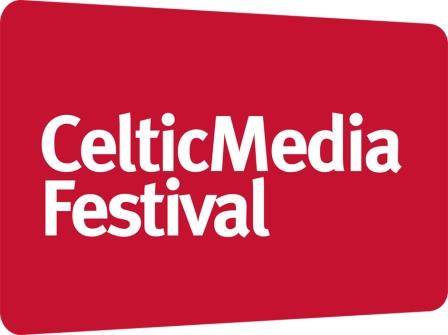 RECORD BREAKING YEAR FOR CELTIC MEDIA FESTIVAL'S CALL FOR ENTRIES
2016 Festival Sees Record Number of Entries

Entries for the biggest media awards in the Celtic regions, Celtic Media Festival's 2016 Torc Awards for Excellence, have exceeded previous years' figures with a record breaking 510 entries submitted to festival organisers. The entries showcase the quality of productions both inspired by Celtic language and culture, and those whose production companies are based in Celtic regions and nations.

The dedication to nurturing talent and creating outstanding productions on screen and in broadcasting is evident in the consistently high standard of submitted entries, that in past years has resulted in shortlisted productions including The Fall, Y Gwyll/ Hinterland, Dá la' san Damhair, Doctor Who and more. 2016 entries include strong representation from Ireland, one of the larger Celtic nations, with a 5% increase in Irish entries, highlighting the country's continued excellence in creating high quality productions.

A shortlist of some of the finest films, TV and radio productions and digital media to emerge from the Celtic nations and regions over the past year will be selected by national and international juries, with the Torc Award nominees to be announced in the next few months.

Next year's event takes place in Dungarvan in County Waterford, Ireland, and, with the addition of three brand-new award categories in Comedy, Radio Comedy and Radio Magazine Show, a total of 24 Torc Awards will be presented at the 2016 Festival. Over the years the Festival has celebrated the very best in Celtic media, with BBC/Hartswood Films' Sherlock, BBC/RTÉ/Artists Studio Ltd's The Fall and BBC Cymru Wales' Doctor Who just a few of the major productions to be nominated for Torc Awards for Excellence. Past winners include RTÉ One's Love/Hate, Fiction Factory's Y Gwyll/Hinterland and TG4/Magamedia's Corp + Anam.

Catriona Logan, Festival Director said: "We're delighted that the number of entries submitted for the 2016 Torc Awards for Excellence are so high. It showcases the increasing breadth and depth of the Celtic media industry when our Call for Entry figures increase year on year. Our national and international juries have a wealth of productions to choose from when they pick winners for each category, and we can't wait to see everyone in Dungarvan in April to celebrate the talent on offer at the Festival."

The 37th Celtic Media Festival takes place over 20th - 22nd April 2016 and will see hundreds of delegates enjoy a packed festival programme in the Irish town. Supported by the Broadcasting Authority of Ireland, Waterford City and County Council, TG4, BBC Scotland, RTÉ, MG ALBA, S4C, Northern Ireland Screen, BBC Northern Ireland and BBC Cymru Wales, the festival consistently attracts international delegates wherever it is held and offers a programme that celebrates the influential media industry of the Celtic nations and regions, as well as providing networking opportunities for delegates and speakers alike.

Despite moving to a new location each year, the Celtic Media Festival maintains its unique atmosphere, one which evokes its nurturing, collaborative nature no matter where it calls home. And each year the Festival's design concept draws on its chosen location – this year, Irish myths and legends have inspired the 2016 design, specifically the Salmon of Knowledge, thought to hold all the wisdom in the world in its flesh. The 2016 design is a nod to the world-renowned Waterford Crystal, and the lettering is evocative of traditional Celtic calligraphy found in tomes such as the Book of Kells.

Full information on the Call for Entries and award categories is available at www.celticmediafestival.co.uk

The Celtic Media Festival 2016 will take place in Dungarvan in County Waterford, Ireland, from 20th - 22nd April 2016.

Showcasing the best work from Wales, Scotland, Ireland, the Isle of Man, Cornwall, Brittany and Galicia, the festival is expected to attract some of the biggest names in the media world to the town. Previous high-profile guests include Tilda Swinton, Rhys Ifans, Peter Mullan, Ken Loach, The Killing Director Birger Larsen, River producer Chris Carey, My Mad Fat Diary writer/showrunner Tom Bidwell, and Doctor Who and Torchwood producer Russell T Davies. Although the festival is primarily for industry delegates, there will be a wider programme of events. Full details of the festival programme, delegate registration, and how to purchase tickets, will be announced early next year.