The Location
Celtic Media Festival 2017 will take place in the Villa Marina, Douglas.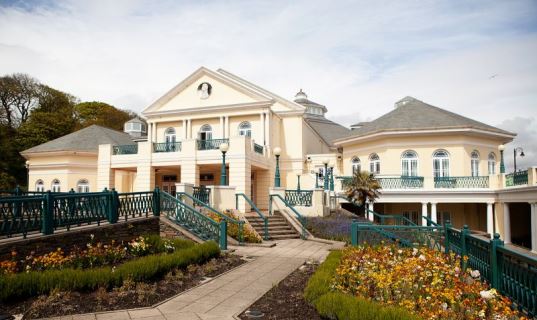 The Isle of Man will play host to the Celtic Media Festival in 2017, for the first time in its history.
The Isle of Man occupies a central position in the Irish Sea and the British Isles – right between England, Ireland, Scotland and Wales.
Fiercely proud of its diverse culture and fascinating heritage this sea-bound kingdom has a captivating story to tell – one which stretches back for thousands of years.
Legend has it that the Island's name comes from the Celtic sea god Manannan Mac Lir who protected the land from invaders by shrouding it in a cloak of mist. It is these folklore stories, and the history that follows, which are carefully safeguarded by the Manx people to ensure the Island doesn't lose any of its unique charm of character.
A visit to the Isle of Man will be a voyage of discovery and will present the chance to explore Celtic crosses and ancient Viking burial grounds as well as a number of heritage landmarks which tell the Story of Mann.
Modern day culture is well showcased throughout the year with a packed programme of entertainment including the annual inter-Celtic festival – Yn Chruinnaght – where the native Manx Gaelic language, song and dance is celebrated.
The island's strong identity is due in part to its independence and the fact that the Island is self-governing. It has the oldest continuous parliament in the world, Tynwald, which dates back over 1,000 years. You can tour the Tynwald building and visit Tynwald Hill – where parliament meets in the open air once a year.
Despite its size the Isle of Man has a diverse landscape with long stretches of sandy beaches in the northern plain and rocky cliffs and sheltered bays around the rest of the Island. Due to the influence of the sea the Island's weather is temperate making it an ideal year round visitor destination so you can enjoy the many beaches and forests the Island has to offer.
The compact towns create little light pollution on the Isle of Man making it a great place to watch the night sky with 26 British Isles Dark Sky Discovery Sites. On a clear night you'll be able to see the Milky Way and if you're lucky the Northern Lights!