Travel
Whether you choose to fly or sail to the Isle of Man you'll be impressed with how easy it is to reach Manx shores.
With connections to numerous airports and five ferry ports in the UK and Ireland, the Isle of Man is easily accessible as a leisure destination - and closer than you think!
Travelling to the Isle of Man
Flying is the quickest and, for many, the most convenient way to get here. In recent years, the Island's air connections have expanded, leading to greater choice for travellers. Isle of Man Airport is only 15 minutes' drive from the capital, Douglas, with car hire, taxi and public transport services all at your immediate disposal.
Flights operate from airports all over the British Isles to the Isle of Man. Flight details can be found here.
If you prefer to sail, choose between a ferry or fastcraft crossing with the Isle of Man Steam Packet. Ferry services operate from five ports to Douglas - Heysham, Liverpool (Birkenhead during the winter season), Belfast and Dublin.
For more information and assistance with travel and accomodation from Visit Isle of Man click here.
By Air
SOUTH WALES: Please note that there will be a shuttle service operating from BBC Cardiff to Birmingham International Airport for the following flights:
Wednesday 3rd May - Birmingham to IOM - 14:30-15:30
Thursday 4th May - Birmingham to IOM - 14:30-15:30
And from Birmingham Airport to BBC Cardiff for the following flight:
Saturday 6th May - IOM to Bimingham - 10:00-11:00
Please contact naomi@celticmediafestival.co.uk for more information and to book this service.
Updates:
13/03: Eastern Airways have taken over the Belfast City - Isle of Man route : www.easternairways.com/
24/03: Eastern Airways have taken over the Glasgow - Isle of Man route : www.easternairways.com/
Outbound
Dublin - Aer Lingus
Tuesday 2nd May – 09:25 and 16:20
Wednesday 3rd May – 09:25 and 16:20
Thursday 4th May – 09:25 and 16:20
London Gatwick - Easyjet
Tuesday 2nd May – 08:05 and 19:15
Wednesday 3rd May – 08:05 and 19:15
Thursday 4th May – 08:05 and 19:15
London City - British Airways
Tuesday 2nd May – 08:45, 14:50 and 18:40
Wednesday 3rd May – 08:45, 14:50 and 18:40
Thursday 4th May – 08:45, 14:50 and 18:40
Belfast - Eastern Airways
Tuesday 2nd May - 12:15
Wednesday 3rd May - 12:15
Thursday 4th May - 12:15
Glasgow - Eastern Airways
Tuesday 2nd May - 14:50
Wednesday 3rd May - 14:50
Thursday 4th May - 14:50
Newquay - Flybe
Tuesday 2nd May- 12:35 and 17:30 (via Manchester)
Wednesday 3rd May - 12:35 and 17:30 (via Manchester)
Thursday 4th May - 12:35 and 17:30 (via Manchester)
Return
Dublin
Friday 5th May - 17:35 (Aer Lingus)
Saturday 6th May – 10:40 (Aer Lingus - Sold Out); 15:30 (Flybe)
Belfast - Eastern Airways
Friday 5th May - 11:05
Please contact the Celtic Media Festival office regarding returns to Ireland (Belfast and Dublin) on Saturday 6th of May : +44 (0)141 553 5409 or naomi@celticmediafestival.co.uk
London Gatwick - Easyjet
Saturday 6th May – 12:00
London City - British Airways
Saturday 6th May – 09:55
Glasgow - Flybe
Saturday 6th May - 10:00 (via Birmingham)
Please contact the Celtic Media Festival office regarding a direct return to Glasgow on Saturday 6th of May : +44 (0)141 553 5409 or naomi@celticmediafestival.co.uk
Newquay - Flybe
Saturday 6th of May - 10:00 (via Birmingham)
By Sea
BELFAST
Belfast – Isle of Man: Wednesday 3rd May – 13:30
Isle of Man – Belfast: Sunday 7th May – 07:00
ENGLAND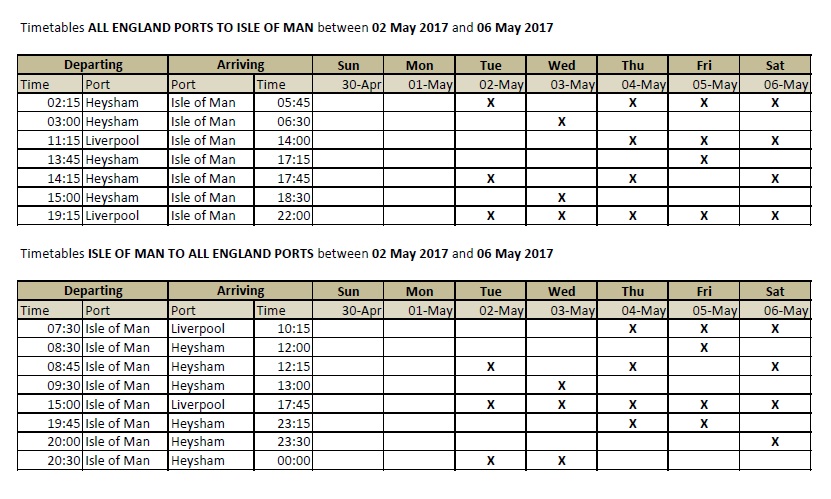 * Please contact naomi@celticmediafestival.co.uk for more information